Looking for a place to rest?
…maybe find someone to chat with?

You're in luck… new people are popping in all the time.
Check out the newly remodeled Boystown Welcome Center.

Move Into Boystown, Today!
You can find land, homes, apartments, dockhomes, and more!
"Getting to know new people from all over the world and gaining new friends is one of second life's greatest pleasures. So conquer your fears and get out there."

– Someone Smart, Probably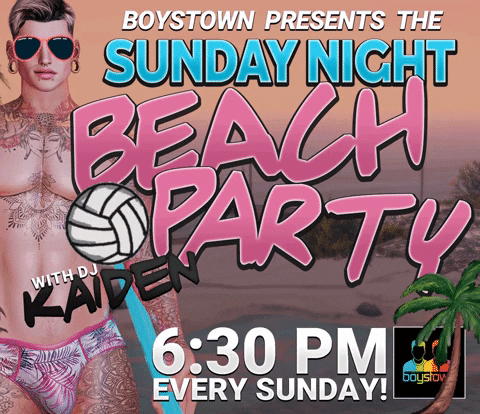 ER MAH GERD, BERCH PHARTEE!
The SUNDAY NIGHT BEACH PARTY returns to Boystown, every Sunday evening. This party has been around just about as long as Boystown. Join DJ Kaiden this Sunday night starting at 6:30pm.

This event is open to EVERYONE!
DOCKHOMES!
All dockhomes are private parceled, with a security orb, land radio changers, and sky-platform areas.
Events This Week!
We have events, so you can meet new people, hangout, and chill… Every. Single. Day.
CONTAINER HOMES!
Container homes come with a security orb inside a private parcel & a land radio changer.
Now you can get updates on what's going on in BT in real-time.
Check out our discord server and browse the channels today!

Guys, check out MeetMenSL.com
to meet some new friends!
---
Second Life™ Status
THIS IS A SCHEDULED EVENT Mar 2, 03:00 – 09:00 PSTFeb 26, 13:49 PSTScheduled – We will be performing rolling restarts for regions on the main Second Life Server channel on Tuesday , March 2nd, beginning at approximately 3:00 AM PDT. Please refrain from rezzing no copy objects and remember to save all builds. Please check this blog for updates.

THIS IS A SCHEDULED EVENT Mar 1, 11:00 – 12:00 PSTFeb 26, 16:06 PSTScheduled – We will be performing maintenance on our billing systems on Monday, March 1st at 11:00 AM PST. While this maintenance is in progress, Residents may be unable to use the cashier or to make purchases. Please watch this blog for updates.

Feb 26, 10:42 PSTInvestigating – New regions delivered by the Land Store may be delayed temporarily. Please allow up to 24 hours for new regions to be available in world. Thank you for your patience! Please follow this blog for updates.

Feb 25, 13:27 PSTResolved – This incident has been resolved.Feb 16, 14:08 PSTUpdate – While the Land Store maintenance continues, it's still possible to get new regions via a support ticket under Land & Region > Order Private Region. We're working on getting things back to normal, and apologize for the delays.Dec 22, 10:14 PSTIdentified – The Land Store will […]
---
Steamworkz is an ALL-MALE private men's resort geared toward connecting ADULT male avatars. With a bathhouse, beach, sex maze, campground and much more, you'll be sure to find something and someone to play with! Parties with great DJs multiple times per week too!
---
The MIST is a ley-line hub and party destination that gives our friends freedom to dress up (if they want, it's not required) in any time era / alternate reality / fantasy they want. Join DJ ZANN and Adham every Saturday Night at 8:30pm!

This event is open to EVERYONE!
---
No event found!