Hello! Here's a brief checklist for the hosts (and in some cases DJs) at Steamworkz.
Toggle [BT] Employee group and login to your host tip-jar.
Decide how you want to be notified when you receive a tip with the pop-up.

Toggle *** STEAMWORKZ – MEN'S RESORT *** group so your tag shows "SW ✚ Hot Host"

Use the "[URW]_HUD" to turn on the party lights.
Enter ID code: 797979 upon first-time setup.
Changing the colors is fine, but do not change light positions or they can break.
[URW]_HUD can be purchased for L$10 on the marketplace if you don't have it.

To turn on the lights in each location:

Pier: SET 1 -> FX LASER Ai500 & SET 1 -> FX MHEAD Ai100
Pool: SET 2 -> FX SCAN Ai100 & SET 2 -> FX MHEAD Ai100
Campground: SET 3 -> FX MHEAD Ai100
Beach: Don't adjust these lights. Leave them on.

4. Create your notices. We've had success with the format below:
===SUBJECT===
PARTY NAME w/DJ NAME at Steamworkz
===BODY===
DJ NAME – Hosted by NAME
DATE @ #pm-#pm SLT
URL to location (found below)
Please accept the Boystown Experience so we can get you to the party!
Steamworkz is an adult male-only resort
[https://boystownsl.com Info about Boystown]
===END OF BODY===
Here is an example of a notice shown in the group notices section: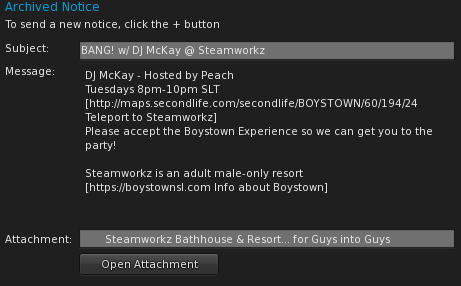 SLURLs to location:
Use the same SLURL for all parties. The Boystown Experience will teleport guests to the appropriate venue:
http://maps.secondlife.com/secondlife/BOYSTOWN/60/194/24
Attach the LM that reads "Steamworkz Bathhouse & Resort… for Guys into Guys" to all notices UNLESS using a party poster.
If you write your own notice, you must include "Steamworkz is an adult male-only resort"
Be mindful that some people will not accept the Experience and will be "stuck" in the lounge. It's helpful to keep an eye on this location and offer a teleport to anyone who seems lost, but try not to annoy anyone that is there for the bathhouse.
5. Send your notices to the following groups (copy/paste links into a chat window):

a. *** STEAMWORKZ – MEN'S RESORT ***
(secondlife:///app/group/13c52cfc-408a-9ff3-d313-75b7a3a42422/about)

b. [BT] Boystown Info Group
(secondlife:///app/group/c25155f1-eb35-c2cd-c800-3dfeac21e4ba/about)
*One notice only; no pre-notice or halftime.

c. Any additional LGBTQ+ party/notice groups you may have suitable for this event. Below are some suggestions though you may need to IM group admins or officers for posting privileges (copy/paste links into a chat window):

GAY PARTY CENTRAL OF SECOND LIFE
(secondlife:///app/group/8d7e06fc-0a1e-1e73-077b-c6048401b10b/about)

GAY MEETINGPOINT
(secondlife:///app/group/8b9c648d-098e-21be-8c93-4df1e12af525/about)

*GAY EVENTS GRID-WIDE*
(secondlife:///app/group/bf99bbbd-4708-652a-142b-95e50320846a/about)

GAY List
(secondlife:///app/group/cd30894b-68cd-8def-d938-c03ea1b0beb4/about)

GAY CLUBS IN SL
(secondlife:///app/group/ad54f14f-f5cd-09d9-efc7-334ceacd3e1f/about)


Need help? Got questions? Give Lee McKay or Peach Treat a shout in-world or find us in the Boystown Discord: https://discord.gg/PUfdPSy